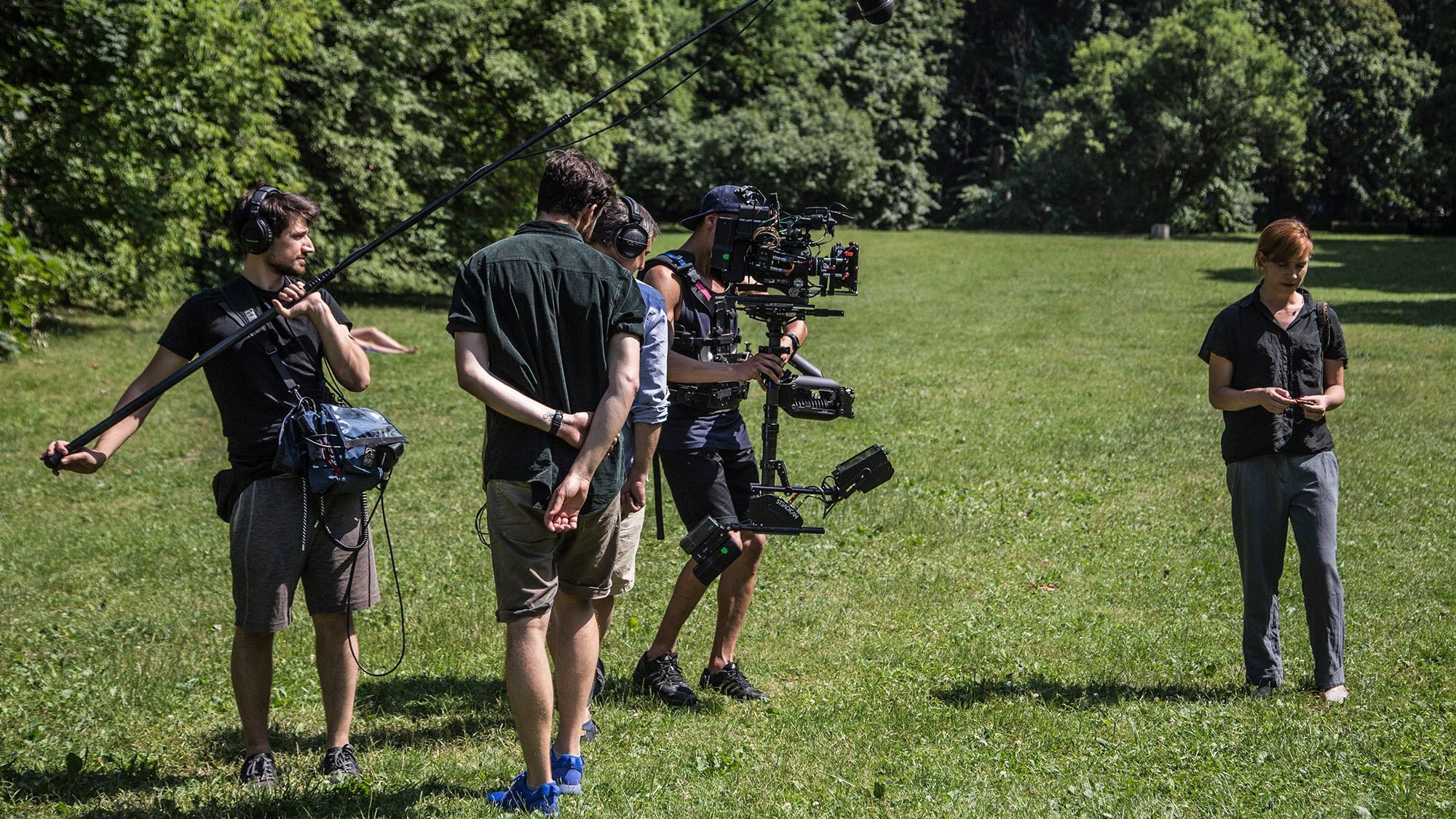 It's been a great summer of EKRAN+ graduates and their movies, which we proudly saw in development at Wajda Studio. Check out the list of awards, what's new in production and where you can see the next big premiere of EKRAN+ projects.
EKRAN+ plus films in production

Over 11 years of film professional training thought us, that good development will get your film to the big screen. EKRAN+ 2010 graduate Agnieszka Smoczyńska is currently working in her second feature "Fugue", which she developed during her training at Wajda School. "It is a story about a woman, who suddenly lost her memory. She doesn't know where or who she is. She discovers, that only a confrontation with her past can give her answers" said Agnieszka Smoczyńska. "Fugue", starring Gabriela Muskała, is produced by Renata Czarnkowska-Listoś of Prasa & Film and will premiere in 2018.EKRAN+ 2014 graduate Adrian Panek is currently shooting his second feature film Werewolf, set in the aftermath of WWII. This Polish/Dutch/German coproduction is scheduled to be released in 2018. The story written by Adrian Panek is set in 1945 and follows eight children freed from the Gross-Rosen concentration camp. A small orphanage, run by 20-year-old fellow camp survivor Hanka, is set up for them in the middle of the forest. The kids try to regain what is left from their childhood, when the nightmare comes back in the form of wild wolf dogs that were used to guard them in the camp. The cast of international actors includes Danuta Stenka, Sonia Mietelica, Nicolas Przygoda and Werner Daehn. The film is produced by Agata Szymańska and Magdalena Kamińska through Balapolis in coproduction with the Dutch company House of Netherhorror and Germany's Twenty Twenty Vision Filmproduktion.The shoot for the feature debut by EKRAN+ 2014 graduate Orsi Nagypal, Open kicked off in Budapest on 17 July. The filmmaker is now trying her hand at a sexual dramedy about the impossibility of monogamy, its alternatives – and the impossibility of those as well. The cast includes Csilla Radnai, Lehel Kovács, András Ötvös and Bori Péterfy. The film is produced by Hungarian company Megafilm and the shoot will wrap on 31 August 2017.
Emre Yaksan's "The Gulf" in Venice

EKRAN+ 2015 graduate Emre Yeksan, has spent almost four years sculpting and bringing to life the idea behind his debut feature film, entitled The Gulf. The project is currently in post-production and will premiere at Critics' Week and received a nomination to the Lion of the Future Award – 74. Venice Film Festival. The screenplay, written by the director and Ahmet Büke, revolves around an apathetic man, 32-year-old Selim (Ulaş Tuna Astepe), who returns to his home town Izmir at a moment when his personal life and professional career are in ruins. Selim, who doesn't want to plan his future, decides to reconnect with his past friends, his family and the energy that his old town offers him. However, this new adventure takes an unexpected turn when an unbearable smell spreads over the city. The Gulf is a Turkish-German-Greek co-production by Anna Maria Aslanoğlu (Istos Film), Asli Filiz (Bir Film), Dirk Engelhardt (Kundschafter Filmproduktion) and Maria Drandaki (Homemade Films). The film is supported by the Turkish Ministry of Culture and Tourism, the Berlinale's World Cinema Fund, the Greek Film Centre and Swiss fund Visions Sud Est.
EKRAN+ films at  42nd Gdynia Film Festival
EKRAN+ films dominated this years 42nd edition of the Gdynia Film Festival with record 3 titles in the Main Competition selection. EKRAN+ graduates Bodo Kox, Paweł Maślona and Piotr Subbotko will compete at the leading Polish film festival in September.Paweł Maślona's debut feature is fusing six stories about ordinary people in extreme situations, which cause them to experience panic attacks. "During a panic attack, the awareness of a that the end may be near becomes unbearable and fear prevents any rational behaviour. I have experienced a few panic attacks and I was sure that my life was over. Those moments were absolutely terrifying, but now they seem ridiculously funny and I believe that my characters share the same experience of something equally terrible and funny at the same time", said Paweł Maślona. Panic Attack was developed during EKRAN+ 2015 and shot in November 2016,  produced by Jan Kwieciński through Akson Studio.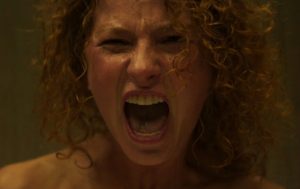 Panic Attack
Man With A Magic Box is a sci-fi costume romance sophomore feature by Bodo Kox, EKRAN+  graduate of 2016. His  film is set in Warsaw in 2030 and follows Adam, whose memory has been wiped-out by the secret service. He gets a job as a janitor and falls in love with Goria, a girl from a higher social class or "zone". During his work he finds an old radio from the 50s and discovers that it allows him to travel back in time. "The idea for this film literally fell into my lap straight from the universe, while I was cleaning an old radio that once belonged to my grandparents. I thought: What would happen if I plugged it in now and it started to broadcast programmes and music from its prime years?", said Bodo Kox. The film is produced by Izabela Igel and Roman Jarosz through Alter Ego Pictures in coproduction with Alessandro Riccardi and Gianluca Varriale through Italy's Vargo Film. The script written by Bodo Kox received a Special Mention for Best Screenplay from Central and Eastern Europe at ScriptTeast in 2015. The film is currently in postproduction and will be ready in the first half of 2018.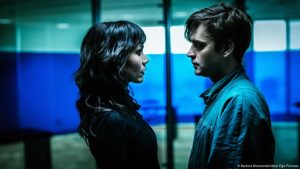 Man With A Magic Box
"A Hole In The Head" from EKRAN+ 2012 graduate Piotr Subbotko follows Chudy, an actor who goes on tours with a theatrical troupe close to the Belarussian border and they play Thomas Bernhard's The Showman. The plot in the play increasingly resembles the painful reality in which the protagonist lives and from which the only escape is into Don Kichote's madness. When Chudy comes back to his home village and his dying mother, he finds in his home Andrzejek, a mentally retarded chap who seems to be his double. His effort to find out who and what that figure really is turns into a real obsession and leads to the progressing mental disintegration and a surprise final. The film, produced by Lambros Ziotas and his company Argomedia, is currently in post-production and will premiere at Gdynia Film Festival.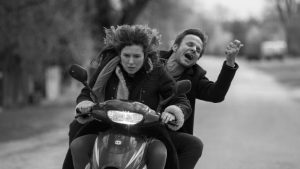 A Hole In The Head