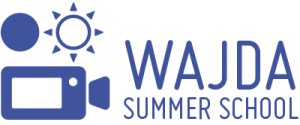 A brand new Wajda School course in English, for those aged 20+ years, who want to have a go at making a film.
The Wajda Summer School will be run by renowned directing tutor Udayan Prasad and Wajda School team.
Wajda Summer School
So you want to become a film director. Or maybe you just want to have a go at making a film – telling a story you think would make a great movie. And maybe the problem is that you have never made a film in your life or the ones you have tried to make haven't quite been what you had wanted them to be. So what do you need to help you achieve your ambition or at least get yourself in a place where there is a far better chance of you making a film that will grab the audience's attention?
Based on an exercise originally devised by FAMU (the Czech National Film School) director Udayan Prasad's 3-weeks long summer workshop exposes participants to the fundamentals of filmmaking from script to screen.
Using an apparently straightforward event as its starting point – a girl drops a handkerchief and a boy picks it up – the workshop explores, through a systematic and rigorous process of examination, all the questions that need addressing to make the event both dramatic and cinematic and so fit to show an audience in a movie theatre. The best lesson to be learned from this exercise is that these questions apply to any and all scenarios.
The workshop examines the variations and possibilities which must be considered before the story can be translated first into a script, and then – via all the stages of preparation, shoot and post production – onto the screen.
The primary areas covered are:
Script writing
Developing a visual language
Choosing locations
Mise en scene
Performance/working with actors
Shooting
Editing and post production
This is a highly practical programme aimed at anyone who is seriously considering a career in film directing; from those about to apply to a major film school, to anyone wishing to improve their understanding of the craft before embarking on their own short films.
Let us imagine that we have to film the following scenario:
A girl drops a handkerchief and a boy picks it up.
The very first question to ask is – what is the story?
Do the boy and girl know each other? What is the nature of their relationship? What do they want?
Why did the girl drop the handkerchief? Was it accidental? Deliberate?
When did the boy see the handkerchief? As she dropped it? Or after she had dropped it? Does he return it? Keep it? Discard it?
What does the handkerchief signify?
Did the boy and the girl expect to see each other, or did they come upon each other by chance?
Whose story do we want to tell? The girl's? The boy's? A third party?
The point, of course, is that:
Everything begins and ends with the story.
Week One
Participants will begin by being put into three groups of four to shoot the 'Handkerchief' exercise, impromptu, set in three separate location close to the School. The rushes will be reviewed then the films edited before being reviewed once more by the whole group. For the second review, an established, professional screenwriter, editor and director of photography will join us.
The rest of the week will continue with masterclasses and workshops with relevant tutors on:
Scriptwriting
Cinematography
Performance and working with actors.
Also in the course of the first week, each participant will write his or her own short script based on the 'Handkerchief' scenario with one to one consultations with the screenwriting tutor.
The scripts will be subject to rigorous constraints regarding locations, number of set-ups and camera movement. The group will recce available locations with Udayan and the cinematography tutor and prepare for their first shoots.
Week Two
In week two the participants will shoot their scenes over the course of two days. Participants will direct their own scripts but will take the roles of camera operators and actors in the scenes of their fellow participants.
After a group rushes review each director will be provided with an editor and a private editing suite, taking it in turns to prepare their first cuts.
The twelve films will be reviewed once more as a group with the screenwriting, editing and cinematography tutors in attendance. Every decision made at each step of the production will be carefully scrutinised..
At appropriate moments throughout the schedule, the group will also receive a series of illustrated seminars and masterclasses by professional filmmakers:
The Axis and Point-of-View by Udayan Prasad
Choice and manipulation of space by a Production Designer.
The art and function of editing by the Editing Tutor.
Week Three 
Week three is where everything is brought together. Each participant will re-shoot their handkerchief scene, this time with professional actors, cinematographers and sound recordists. And this time there will be fewer constraints in how the scenes are to be shot. Participants will be expected to apply all of the lessons learnt from the first two weeks to produce a piece of work which reflects their learning at the Wajda Summer School.
As in the first two weeks, there will be more masterclasses, this time on:
Analysis of text with professional actors
The use of sound and music in film
And the course will culminate with a dedicated screening day where all twelve final films will be thoroughly reviewed, analysed and discussed. Led by Udayan, the participants will welcome back the team of professionals who have been advising throughout the course for their final thoughts and feedback.
Who can apply
All film fans aged 20+ years, who wish to.
Application deadline: 31th May 2017
Date of Summmer Wajda School: 3rd -23rd July 2017
Venue: Wajda School, Warsaw, Poland
Group: max. 12 participants
Fee: 4000 Euro paid in two instalments:
2000 Euro after selection by the end of May 2017
2000 Euro by the end of June 2017
UDAYAN PRASAD – BIOGRAPHY
UDAYAN PRASAD has been directing documentaries, television drama and feature films since graduating from the National Film & Television School in Beaconsfield, UK. Among his numerous television credits are three single dramas written by Simon Gray for BBC Television – They Never Slept 1989, Running Late 1992(Golden Gate Award for Best Television Feature1993), Femme Fatale 1992.  Two other single dramas, both written by Alan Bennett and also for BBC Television, were – 102 Boulevard Haussmann 1991(Golden gate Award for Best Television Feature1991, BAFTA Nomination for Best Single Drama 1991), Talking Heads 2: Playing Sandwiches 1998 (BAFTA Nomination for Best Single Drama 1998). More recently he directed two episodes of The Tunnel 2013 for Sky Atlantic and two episodes, including the finale, of The Musketeers 2016 for BBC TV.
His first theatrical feature was Brothers In Trouble, 1995 (Golden Alexander Award for Best First Feature at the Thessaloniki International Film Festival), This was followed by My Son The Fanatic,1997 (Directors Fortnight Cannes Film Festival, Best Feature at the Potsdam Film Festival), Gabriel & Me, 2000 (Edinburgh Film Festival) and Opa!, 2005 (Toronto International Film Festival). His latest feature The Yellow Handkerchief (Sundance Film Festival) was released in the United States in 2010.
When not actively involved in production, he is a frequent visiting lecturer on directing and screenwriting programmes at several film schools including The National Film & Television School in Beaconsfield, UK; The London Film School; The Wajda School in Warsaw and the National Film, Television and Theatre School in Łódź́́, Poland. He is also an advisor and mentor on various international directing and screenwriting workshops.