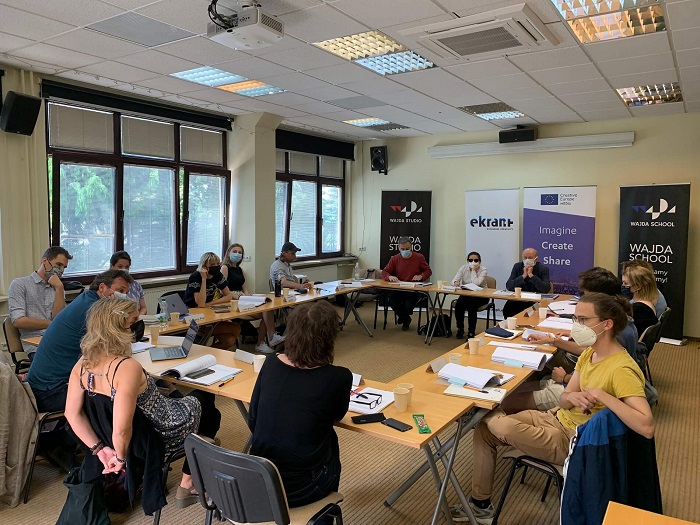 On 7 June, the 2021 EKRAN+ international training programme officially started. Thankfully, we were able to meet each other in person in Wajda School, Warsaw, Poland.

We started with an introduction lecture by Wojciech Marczewski, Ildikó Enyedi and Denijal Hasanović followed by short presentation by our participants before we would dive deeper into scene analysis. You can find photo gallery from the first day on our EKRAN+ Facebook page.
EXCITING NEWS! "The Story of My Wife" by our tutor Ildiko Enyedi will compete for the prestigious Palme d'Or prize at Cannes Film Festival. We are so grateful that Ildiko joins us for this session just a month before the festival. Fingers crossed!
Now, let's have a closer look at our participants and their projects!
EKRAN+ list of participants and projects
"Celebration"
Bruno Anković – director | Jelena Paljan – writer
Told in four thematically titled episodes, Celebration depicts 20 years in the life of Mijo and his family in a poor village in Lika (a mountainous region of Croatia). The non-linear and elliptical plot only gradually forms a clear picture that testifies to the eternal cycle of history and the impossibility of real change in the Balkans.
Bruno Anković (Split, 1976) graduated film and TV editing at the Academy of Dramatic Arts in Zagreb. He has directed short fiction and documentary films and TV formats. Since 1999 he has been working as a director of a great number of high profile commercials winning awards and recognition for his work. He directed over 1500 commissioned works in Croatia, Austria, Slovenia, Serbia, Lebanon, Bulgaria, Ukraine and Russia.
Jelena Paljan is a freelance scriptwriter who holds an MA in Dramaturgy as well as an MA in Editing for Film & Television from the Academy of Dramatic Arts in Zagreb. After editing two TV feature films, she focused on scriptwriting, writing narrative shorts, features and documentary films, as well as drama, comedy and documentary TV series. Her credits include the fiction short film "Cherries" (dir Dubravka Turić), which premiered at Cannes Directors' Fortnight 2017. The screenplay was awarded at the Croatian Film Days and has been turned into a graphic novel published in Croatia and France as Les Pédés (Mosquito Editions, 2018). Jelena has worked with the Croatian Audiovisual Centre as artistic advisor for short and feature films. She has also worked as a script consultant and has led scriptwriting workshops on short film. In 2020. She participated in ScriptLab – Story Editing where she was supervised by mentor Maria Solrun.
At the moment Jelena is finishing a new draft for the "Ceremony" and developing the script "Bluestar" with Stella Kyriakopoulos who she met through ScriptLab workshop.
"Happyland"
Evi Romen – Director/Writer
After a failed career as a musician, Helen(e) returns to provincial life, where she encounters ghosts from her youth in the shape of former band members, her one great love – and a son she never had.
Evi Romen – born 1967 in Bolzano, South Tyrol, Evi Romen, is an Austrian film editor, screenwriter and director. She studied camera and editing at the Vienna Film Academy and has worked as an editor for numerous Austrian feature films since the early 1990s. In 2011 she was awarded the Diagonale-Prize for best editing for the feature film MEIN BESTER FEIND. As a screenwriter she writes for An Honorable Woman (Eine Ehrbahre Frau), 1999, and, together with David Schalko, for the TV series M – A Town looking for a Murderer (M – Eine Stadt sucht einen Mörder, 2019. The screenplay for Why Not You (Hochwald) is awarded the Carl Mayer Screenplay Prize. WHY NOT YOU is her first feature as a director. The film has already screened at several festivals and won the Golden Eye in Zurich (Focuscompetion) and the main prize at the Bolzano Film Festival. It is nominated in 9 categories for the Austrian film award.
"TOXIC"
Saulė Bliuvaitė – Director/Writer
On the outskirts of a desolate industrial city, thirteen-year-old Maria befriends unruly Kristina at a local modelling school, where the promise of a better life pushes girls to discipline their bodies in the most radical ways.
Saulė Bliuvaitė – born in 1994, film director and screenwriter Saulė Bliuvaitė graduated from the Lithuanian Academy of Music and Theatre Film Directing program in 2018. During her time in the Academy, Saulė made four short films that were screened at various film festivals in Lithuania and abroad. Her latest short documentary "Limousine" premiered at New Directors/New Films Festival 2021, organized by Museum of Modern Art (MoMA) and Film Society of Lincoln Center in the New York City. Saulė is a co-writer and co-editor of the historical drama 'Isaac', which was nominated for a FIPRESCI prize at the European Film Awards 2020, as a best debut feature.
"5 euro"
Cosima Frei – Director
A single, retired man falls in love with a young Afghan refugee while engaging in bought sex. Obsessively he throws himself in the relationship until he realizes that he has confused love with possession. 5 EURO is a delicate drama that talks about the longing for love and security.
Cosima Frei was born in Zürich in 1987. During an exchange year in New Zealand she discovers her interest in filmmaking. 2012 she finishes the Bachelor studies at the Zurich University Of The Arts. Her graduation film WO GÖMMER (Where are we going) travels the festival circuit successfully, e.g. it got a nomination for the Studio Hamburg Nachwuchspreis. During two years she works as an assistant director on various feature film sets in Germany and Switzerland (NACHTLÄRM, NIGHTTRAIN TO LISBON, NICHTS PASSIERT). 2017 Cosima leaves the ZHdK with a master degree in fiction directing with her shortfilm ZWISCHENSTOPP (Stopover). Stopover premiered at the Max Ophüls Preis in Germany and at the Shortfest in Palm Springs. Lately, Cosima worked for the second season of the Swiss TV-Show SEITENTRIEBE (Monogamish) by Güzin Kar as a Co-Director. Cosima lives in Berlin and Zurich, where she writes her debut feature film with the working title 5 EURO and feature documentary 8 TO 18.
"March 14th"
Alberto Gross Molo – Director/Writer | Tomàs Albert Bayo Encontra – Co-Writer
Two siblings face what could be their last day together before the imminent divorce of their parents, when they will have to decide who they want to live with from then on.
Alberto Gross Molo (Las Palmas de Gran Canaria, Spain, 1996), graduated as a director by the ESCAC (Barcelona), in 2018. His first short film as director and screenwriter, "Broken roots" (2019), has been selected and awarded in numerous national and international film festivals, such as the Camerimage Festivalin Poland, the Oberhausen International Film Festival or Tallinn Black Nights – Pöff Shorts, among others.
He has also worked as assistant director in commercials, music videos and short films or directing the making-off of several films, like the Netflix film "Loco por ella" (Dani de la Orden, 2021) and "A perfect enemy" (Kike Maíllo, 2020). In parallel, he works for the ESCAC as a filmmaker for the communication department, in addition to being a teacher of film directing and audiovisual narrative. He is currently preparing the shooting of his next short film, "Solo", with the support of the Spanish public grants.
Tomas Albert Bayo Encontra (Lleida, Spain, 1996), began his training as an actor before graduating as a screenwriter by the ESCAC (Spain) in 2018, where he also studied a master's degree in Development and creation of featurefilm projects. During 2019 he served as a creative story-developer for the Spanish's headquarters of international film company BTF. Since graduating, he has also been working as a story editor, casting assistant and as a kid acting teacher in several schools of Barcelona. His first short films as a writer, "Summer solstice" (2018) and "Neither Forget, Nor Forgive" (2019) have been presented in some film festivals around Europe, like Brest European Short Film Festival, Filmschoolfest Munich or PNR Madrid Film Festival for New directors, among others. With the latter he won the Catalan Academy Award for Best Short Film (Gaudí award) and was pre-selected to compete at the Spanish and the Hollywood Academy Awards.
"The Days of Wrath"
Zsigmond Kungl – Director/writer
Vili is a sixteen-year-old religious student at a Catholic boarding school who suppresses his anger and sexual desires. Under the influence of a new boy at the school, he begins to rebel; he also falls in love with him, which terrifies him. Ultimately, Vili betrays both his love and himself.
Zsigmond Kungl graduated at the University of Theatre and Film Arts, Budapest (SzFE) as a screenwriter in 2020. During his university years he took part in several short films. Among others 'Anja' was participating in the student section of Sarajevo Film Festival in 2020, 'Every Night, When You Take the Garbage Out' won the Best Actress award at Friss Hús Budapest International Short Film Festival, and 'Emma' won the Best Drama prize at CanadaShorts International Short Film Festival in 2019. Since his graduation he's been working on his film directing debut, he's developing short films and features, and he's participating at the Erasmus program by FAMU International as a postgraduate student in the field of directing.
"Sparring"
Piotr Dylewski – director | Daniel Sołtysiński – writer
During boxers' training camp, a young unyielding fighter, Bartek, must face accusations of causing a fellow boxer's death, as well as being ostracized from the team.
Piotr Dylewski – screenwriter and director. He came up with the original concept of the story of "The Sparring" Before starting his film career, Piotr finished psychology with a master degree (2013). He studied film directing in Katowice Film School (2016) and in Wajda Film School (2019). In 2019 he finished his 60-min debut film "Rotten Ears", which won multiple awards and is currently doing rounds on film festivals around the globe.
Daniel Sołtysiński – scriptwriter for film and theater with a rich and varied experience. After finishing an acting degree in Lodz Film School he made the change to stage writing, and went on to write the critically-acclaimed play "The Secret Life of the Friedmans". His latest stage production "The Boy is Coming" has met with international interest and is scheduled to be viewed in South Korea in 2021. Selected works: THE BOY IS COMING (2019) – written by M. Wierzchowski and D. Sołtysiński, dir. by M. Wierzchowski, THE SECRET LIFE OF FRIEDMANS (2016) – written by M. Wierzchowski and D. Sołtysiński, dir. by M. Wierzchowski.
"What lies beneath"
Karol Lindholm – Director | Aleksandra Zielińska – Writer
On his eighteenth birthday, Maciej sets off on a trip to Sweden to unravel the mystery of his origins, which will then allow him to enter adult life.
Karol Lindholm, director and camera operator has roots on two Baltic coastlines. He was born in 1990 in the Polish city of Koszalin, around thirteen kilometres from that sea, and then spent the first five years of his life in Sweden. He took philosophy at the Adam Mickiewicz University in Poznań and the Jagiellonian University in Krakow and is currently studying Film and Television Cinematography and Photography at the University of Silesia's Faculty of Radio and Television in Katowice. The films he has worked on have been screened at numerous international festivals.
Aleksandra Zielińska (1989) is a writer, playwright, screenwriter. She is a member of writers team in Studio Munka, 2017-2019. Graduate of Adaptation course in Warsaw Film School, 2013-2014. Author of novels (Alice's Evidence, Bura and frenzy, Sorge), short stories collection (Tadpoles and Molehills), plays (performed in National Old Theatre in Cracow – 2019, Teatr Baj – 2021 and others)
"Taming of the shrew"
Katarzyna Szyngiera – Director | Weronika Murek – Writer
A young Ukrainian female director arrives at the Polish National Theatre, where she is to begin rehearsals for a feminist performance based on the well-known comedy by William Shakespeare, and encounters the chauvinistic and, at times, nationalistic reality of Polish culture.
Katarzyna Szyngiera is a theatre and film director, graduate of the National School of Theatre Arts in Krakow and Andrzej Wajda Master School of Film Directing in Warsaw, holder of the Screenwriting Scholarship from the Polish Film Institute in 2020 for her first feature film TAMING OF THE SHREW on which she works with renown Polish writer Weronika Murek. She realized over a dozen performances, which have been shown and awarded on Polish and international theatre festivals like Divine Comedy in Krakow, Interpretations in Katowice, Central European Theater Carousel in Vienna, Counterpoint in Szczecin. Winner of the prestigious award for theatre directing – Laur Konrada. In her work she deals with documentary and political art, e.g. discussing issues of women's rights, historical politics, religious radicalisms, the situation of refugees in Poland and Europe.
Weronika Murek – born 1989 in Bytom, Poland. Graduated Faculty of Law (Silesian University, Katowice). Her first novel "Growning southern plants according to Mitchurin's method" has been published in 2015 by Czarne publishing house and ever since has been nominated to Gdynia Literary Award, Paszporty Polityki Award, Nike Award, Conrad Award, granted with Gombrowicz's Prize and translated to French, Serbian and Slovakian (Hungarian editor to come). In 2015 she has been awarded with Gdynska Nagroda Dramaturgiczna Drama Prize for best polish play 2015 and she works in the theaters ever since.