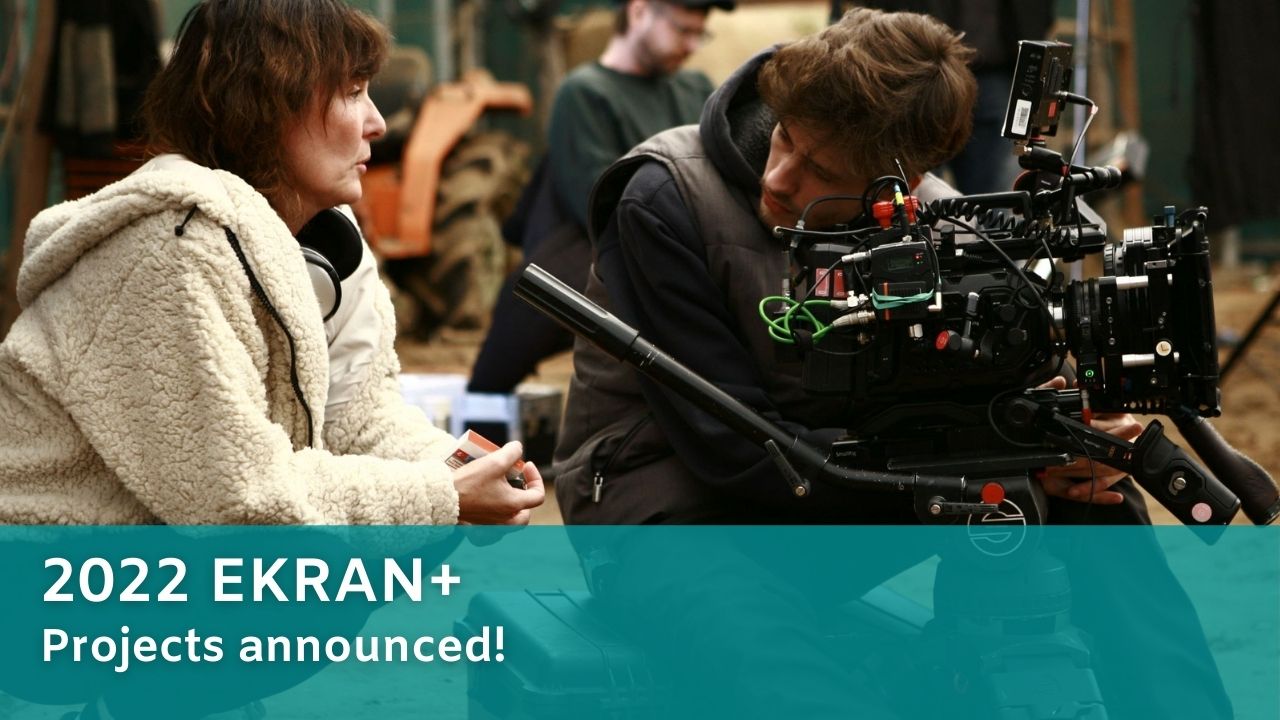 We are happy to present the names of participants and titles of projects selected to this year's edition of the international training programme for directors/screenwriters-directors EKRAN+.
List of the selected projects:
GLORIOUS BODIES WOUNDED SOULS (GBWS), director, writer: Raphaela Wagner, producer: Elda Guidinetti, (Ventura Film SA), Switzerland
HÔTEL DES THERMES, director, writer: Maéva Ranaivojaona, director: Georg Tiller, producer: Alexander Dumreicher-Ivanceanu (Amour Fou Film Vienna), France/Austria
INSEPARABLE, director, writer: Adelina Borets, writer: Marysia Nikitiuk, producer: Jacek Raginis-Królikiewicz (Studio Filmowe N), DoP Bogdan Borysenko, Ukraine/Poland
MIRROR OF NIGHTINGALES, director, writer: Karla Lulić, producers: Karla Lulić, Jelena Madarić (Dobar Film), DoP Dubravka Kurobasa, Croatia
OBLIVION, director, writer: Danielius Minkevičius, writer: Kristina Abromaitytė, producer: Ieva Norvilienė (Tremora), DoP Oskaras Abramavicius, Lithuania
About EKRAN+
EKRAN+ is a professional training programme aimed at developing scripts/treatments and producing scenes from each project under the guidance of renowned international filmmakers, including Wojciech Marczewski (Director of the EKRAN+ Programme), Paweł Pawlikowski, Ildikó Enyedi, Antoine Jaccoud, Udayan Prasad, Marilyn Milgrom, Margaret Glover, Denijal Hasanović, Volker Schlöndorff, Roshanak Behesht Nedjad and Christoph Hochhäusler.
Each participating project is represented by a Creative Team consisting of a director (or scriptwriter-director), scriptwriter (or co-writer), director of photography and producer.
The EKRAN+ programme includes:
treatment and/or script development, through group and individual work;
preparation for shooting: casting, storyboard and individual consultations with the tutors;
shooting;
editing;
evaluation with group and tutor analysis of the produced scenes.
Schedule of sessions
The programme is divided into two online sessions and one on-site session, which are scheduled on the following dates:
session 1: April 25 – 28, 2022 (online),
session 2: June 21 – 29, 2022 (on-site, Warsaw, Poland),
session 3: September 5 – 6, 2022 (online).
Partners
EKRAN+ is a joint project of Wajda Studio and Wajda School (Poland), Focal (Switzerland), Austrian Film Institute, Croatian Audiovisual Centre, Lithuanian Film Centre, with the support of the Polish Film Institute. Technology partners: Heliograf and Koi Studio.