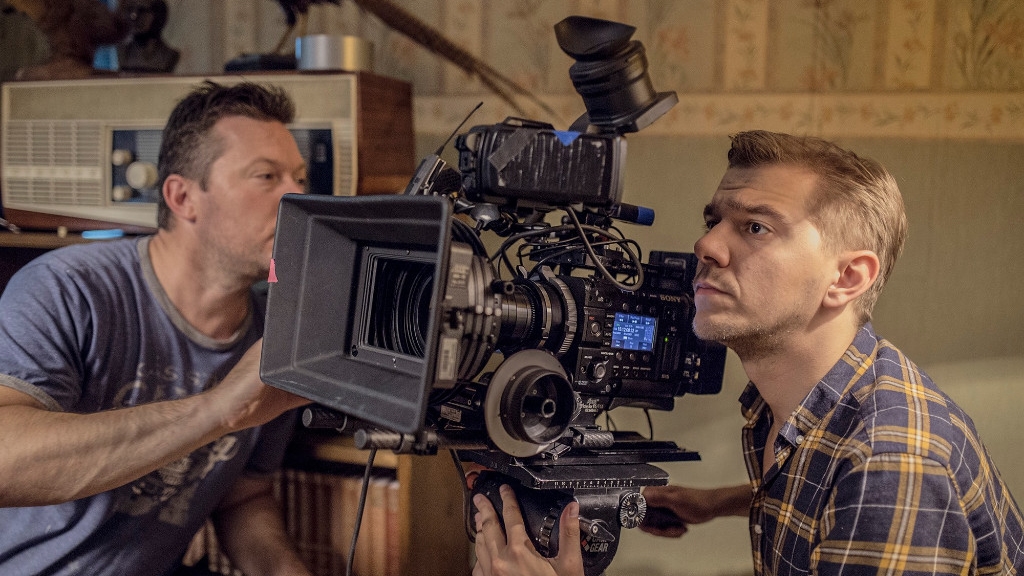 EKRAN+ is a 22-day professional training programme, primarily designed for directors/writer-directors, focusing on the vision of their future film. This vision is elaborated through the combination of three major elements: the script, the audiovisual components and the collaboration with the other professionals involved in the shooting of the film.
EKRAN+ focuses participants on exploring, identifying and refining the tone and visual language of film. EKRAN+ aims at advancing participants' treatments/scripts and producing two scenes from each script/treatment. Every participating project is represented by a Creative Team consisting of a director (or writer/director), a writer (or co-writer), a director of photography and producer.
March 6 the first session of the EKRAN+ European Training Programme 2017 has begun. 9 projects from Germany, Poland, Croatia, Lithuania, Autria and Switzerland take part in this year's edition:
'ninja_ninja' (dir. Kurdwin Ayub , prod. Wild Art Film)
'People we know are confused' (dir. Tomasz Smulkis, prod. Just a moment)
'Elsewhere' (dir. Filip Peruzovic, prod. Dinaridi Film)
'Deaf' (dir. Tobias Nölle, prod. Hugo Film)
'FEDORA' (dir. Jan Gassmann, prod. Zodiac Pictures)
'Powrót do Legolandu' (dir. Konrad Aksinowicz, prod. Chroma Pro)
'Homo Sacer' (dir. Piotr Subbotko)
'Między ludźmi' (dir. Tomasz Wolski, prod. Kijora Film)
'Restless' (dir. Elmar Imanov, prod. Color of May)
During the first session, which lasted until March 9, participants will analyze their treatments, take part in pitching sessions, make visual presentations of their projects and also prepare for the 2nd and 3rd session under the direction of Wojciech Marczewski, Udayan Prasad and Denijal Hasanović. Participants will choose film locations and actors for their scenes. They meet the Polish casting director Aleksandra Gruber ("Środa czwartek rano" dir. Grzegorz Pacek) and art designer Anna Wunderlich (winner of the Polish Film Awards for the art direction for 'Papusza' by Krzysztof Krauze & Joanna Kos-Krauze, lately the art director at 'The Erlprince' by Kuba Czekaj).
Below you can read biograms of the participants and brief synopses of projects in development.
Fot. Łukasz Grudysz
---
'ninja_ninja' dir. Kurdwin Ayub
Yesim, Belma and Leyla sing Muslim pop songs and become YouTube stars. Accused of influencing other schoolkids to sympathize with IS, the girls' lives soon spiral out of control. They encounter family problems, teenage complexes and identity crises. The Internet hype takes off and Yesim's world collapses when her friends Belma and Leyla simply disappear.
Kurdwin Ayub – Born in Dohuk, Iraq, in 1990. Flees to Austria. Has lived in Vienna since 1992.
Kurdwin has been making films since she was 15. At 18, she started her studies at the University for Applied Arts, Painting and Animation with Christian Ludwig Attersee and Judith Eisler. During that time, she also studied performing arts for a few semesters at the University of Visual Arts under Carola Dertnig. She graduated in 2013. Today, she works as a director and screenwriter, and also as a video and performance artist.Her first full-length documentary 'Paradise! Paradise!' was completed in 2016 and won the award for best camera at the Diagonale 2016, the New Waves Non Fiction Award at the Sevilla Festival de cine Europeo 2016 as well as the Carte Blanche Nachwuchspreis (young talents) at the Duisburger Filmwoche.
EKRAN+ team: Ebba Sinzinger (producer), Klemens Hufnagl (cameraman)
---
'People we know are confused' dir. Tomasz Smulkis
Three parallel stories of people seeking new lives and facing their own fears of loosing security and stability, set in post-Soviet Vilnius, a modern city still in search for it's relation to the past.
Tomas Smulkis – Tomas Smulkis is Vilnius based filmmaker. He graduated Lithuanian Academy of Music and Theatre with MA in Film directing. He has directed few shorts: fiction 'Souther' (2009 Lithuania,) and a documentary 'Paradise Road' (2012 Lithuania, Sweden). Since 2011 Tomas works with educational projects as well as 1st AD in film productions. Right now developing his first feature 'People We Know Are Confused'.
Birute Kapustinskaite – screenwriter and a playwright. She wrote several short films and three plays. 'People We Know Are Confused' is a debut feature film she's working on with Tomas Smulkis.
EKRAN+ team: Dagne Vildziunaite (producer), Vytautas Plukas (cameraman)
---
'Elsewhere' dir. Filip Peruzovic
Twenty years after they participated in a 'What will you be when you grow up' programme, five young people from Croatia need to come to terms with the fact that their lives are not quite what they had hoped they would be.
Filip Peruzovic – Born in 1986. Graduated Film Directing at the Academy of Dramatic Arts, Zagreb, 2015. Directed feature film 'Walk the Dog' (Croatian Actor's Guild Award for Best Drama), 2015. Rector's Award for short film 'Tetrapak'. Sarajevo and Berlin Talent Campuses. Winner of Nisi Masa script competition at national level (screenplay Why Not), the Ars Septima award for a feature screenplay ('What Counts'), and Palunko award for short script ('Taxideyo'). Short film 'Coffee with Jam' (Best Film – Pula Film Festival 2013. and Best Regional Film – Kratkofil Plus) participated at festivals around the world.
EKRAN+ team: Gojic Tena (producer), Dubravka Kurobasa (cameraman)
---
'Deaf' dir. Tobias Nölle
As he loses his hearing, Max, a young and radical police officer keeps it a secret until it ends in disaster at a demonstration: A protester is shot. Max escapes into complete silence where he tries to proof his innocence.
Tobias Nölle – writer, director and editor. Raised in Zurich Switzerland. BFA in writing and directing from the School of Visual Arts, New York, 1999-2003. Lives in Zurich, Switzerland. Founder and Partner of 8horses Filmproductions.
EKRAN+ team: Christoph Neracher (producer), Brandth Grovlen Sturla (cameraman)
---
'FEDORA' dir. Jan Gassmann
Frank (33) loses his mother and can't feel a thing when Bigna (29), who is trying to control herself from feeling too much, walks into his life. They fall in love, but their plan to make an escape to Cité du Soleil to start fresh is challenged by the past and by Bignas wild and unpredictable mind. Is their love going to be stronger than the vicious circle of desire, posession and violence?
Jan Gassmann (1983) comes from Zurich' He began making films in 1999 tor the television show ",VideoGang" on Tele24. After a year abroad in Ecuador he won first awards at youth film festivals. In 2003 his work on VIVRE AUTREMENT led him from Mexico over Senegal to India, where he then made several films. ln the same year he began his studies at the HFF in Munich in Directing Documentary Film. His first full-length feature film CHRlGU premiered at the 57th Berlinale and further worldwide festivals lollowed.  His last film EUROPE, SHE LOVES opened the Berlinale Panorama 2016 and was selected for the European Film Awards atter a major festival tour. The film was distributed to Austria, Germany and Switzerland and won, among other honours, the Zurich Film Award 2016.
EKRAN+ team: Reto Schaerli (producer), Ramon Ginger (camerman)
---
'Powrót do Legolandu' dir. Konrad Aksinowicz
The story of an eleven-year-old boy struggling with his father's alcoholism. A teenager faces a conflict between intrinsic love and a bitterness and hatred developing towards his drunken dad.
Konrad Aksinowicz – Konrad Aksinowicz, born 08.11.1978 in Wrocław, was brought up by three 80s phenomena: 'Star Wars', LEGO bricks and The Muppets. 1985 turned out to be a real breakthrough. 'Return of the Jedi', the sixth part of Star Wars, changed Konrad's life for ever. He realised that his future lies in the galaxies of cinema. He began making short films in high school. His short 'Alabama' (1996) won the Ministry of Education award. After graduating, he recieved a scholarship at the School of Visual Arts in Sydney, Australia. After coming back to Poland in 2004, he began directing music videos and adverts. He has directed two feature films – 'Swap' ("Zamiana", 2009) and 'Into the Spiral' ("W spirali", 2015).
EKRAN+ team: Agnieszka Chromicka (producer), Paweł Flis (cameraman)
---
'Homo Sacer' dir. Piotr Subbotko
The story of "homo sacer," that is the "accursed men" who combat their exclusion in the contemporary world.
Piotr Subbotko – Scriptwriter, director. Graduated from the Department of Theatre Studies at the National Academy of Dramatic Art in Warsaw. Studied at the Wajda School in Warsaw. Glasgow (2010), a debut film directed by Subbotko, received ten-odd awards at international film festivals. 'A Hole In The Head' (2017) is his first full-lenght feature film.
EKRAN+ zespół: Wojciech Staroń (cameraman)
---
'Between people'dir. Tomasz Wolski
Sometimes one decision of a hundreds or even thousands we make every day, may have an irreversible impact on our lives or our loved ones. Therefore, certain decisions we regret till the end of our life, even if some of them are independent of us. Is aware of it, or lack of it, sometimes makes a relationships with others so unbearably and hard to deal with?
Tomasz Wolski – graduated of the Wajda School, participant of Berlinale Talents and Berlin Today Awards, scholar of Ministry Of Cultre and National Heritage, NCK Young Poland Program, leader and expert at Polish Film Institute, lecturer at Wajda School at Film Preschool program, member of Society of Polish Filmmakers & European Film Academy. Director, editor and cameramen awarded documentaries such as 'The Clinic' (2008), 'Goldfish' (2008), 'The Lucky Ones' (2009) 'Actors' (2009), 'Slowly' (2010), 'Doctors' (2011), 'Palace' (2012). Director of short feature film 'Daughter' (2015) awarded at Angers Premiers Plan (Grand Prix and public award). Editor of such movies as: 'Diary of Journey' (2013), '21xNY' (2016) and 'Krzyżoki' (2017). Now Wolski's new documentary 'Festival' is waiting for a premiere and currently he is working on feature documentary – 'An Ordinary Country' and fiction film debut 'Between People"'
Bartosz Mleczko –  screenwriter, sound editor – 'Doctors' (documentary, dir. Tomasz Wolski) and 'The Clinic' (short documentary, dir. Tomasz Wolski), co-writer of the short feature by Tomasz Wolski – 'Daughter'.
EKRAN+ team: Anna Gawlita (producer)
---
'Restless' dir. Elmar Imanov
RESTLESS is a father-and-son-drama with surreal elements. The young man Bernard is losing control of his life facing the death of his beloved father. While facing death, the father and son finally connect.
Elmar Imanov – writer, director, roducer. Elmar Imanov was born in 1985 in Baku, Azerbaijan. Since 1998 he is living in Cologne, Germany, where he studied film directing at the ifs. His graduation film The Swing of the Coffin Maker (2012) won 40 awards worldwide including the Student Academy Award (Student Oscar®) and The German Film Critics Award for the best short film of the year. His next short film TORN (2014) had its world premiere at the Directors' Fortnight in Cannes.
EKRAN+ team: Eva Blondiau (producer), Driss Azhari (cameraman)
---
Look at the pictures from first session!
 Main photo – Łukasz Grudysz
Photo from first session – Mariusz Ulejczyk