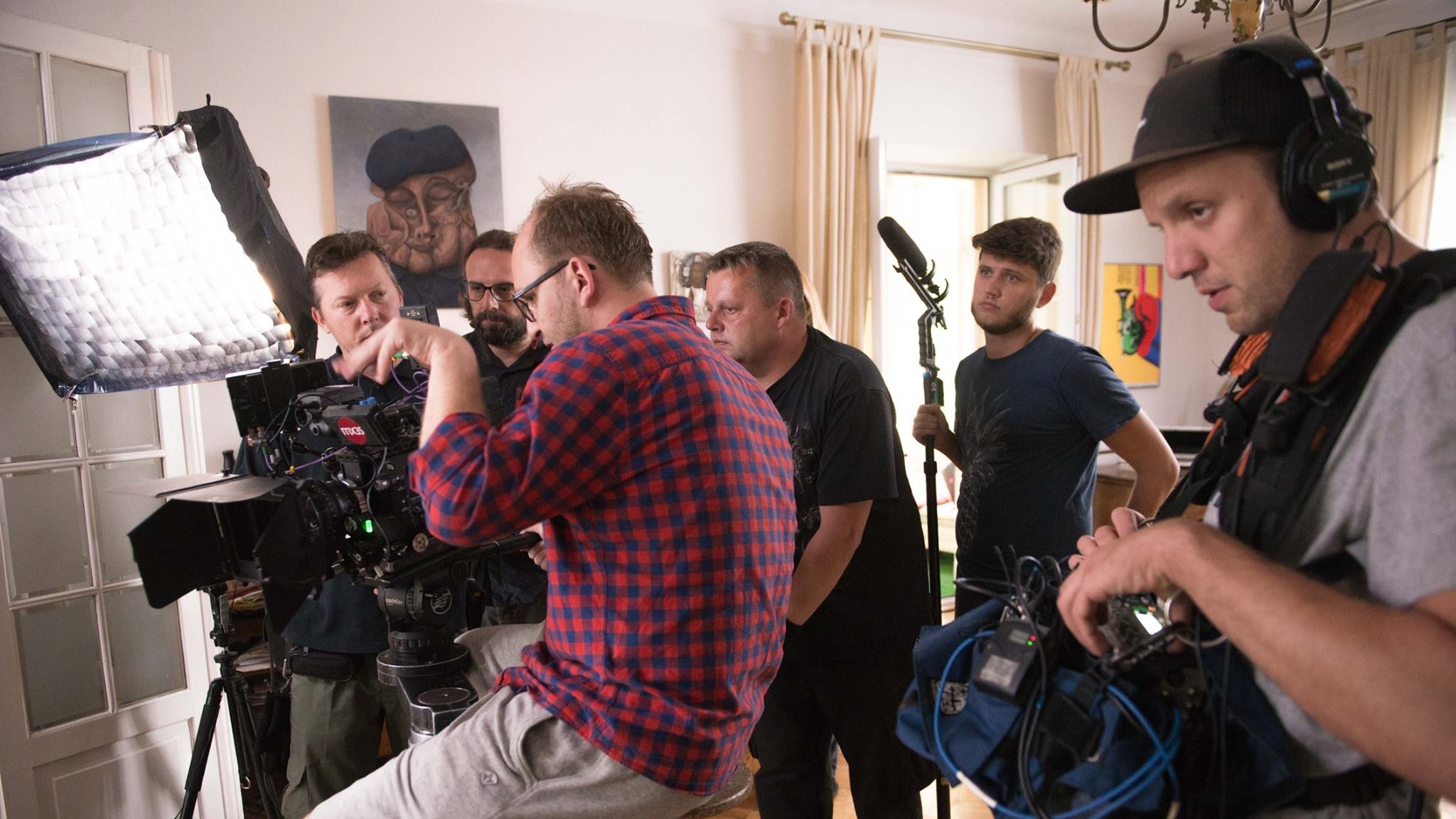 EKRAN+ is a 22-day professional training programme, primarily designed for directors/writer-directors, focusing on the vision of their future film. This vision is elaborated through the combination of three major elements: the script, the audiovisual components and the collaboration with the other professionals involved in the shooting of the film.
EKRAN+ focuses participants on exploring, identifying and refining the tone and visual language of film. EKRAN+ aims at advancing participants' treatments/scripts and producing two scenes from each script/treatment. Every participating project is represented by a Creative Team consisting of a director (or writer/director), a writer (or co-writer), a director of photography and producer.
EKRAN+ organized by Wajda Studio and Wajda School is a training program focusing on the creative pre-production process based on shooting practice.
---
March 5the first session of the EKRAN+ European Training Programme 2018 has begun. 9 projects from Poland, Switzerland, Croatia, Lithuania, Austria and Georgia take part in this year's edition:
"The 9th step":  Irma Puzauskaite – Director, Egle Vertelyte – Writer
"Hochwald": Evi Romen – Directer/Writer
"Good boy": Matthias von Gunten – Director, Carola Diekmann – Writer
"The Late Alan Milbrandt": Olivier Paulus – Director/Producer
"Four Days at the Sea": Ivana Skrabalo – Director/Writer
"The Empty House": Rati Tsiteladze –  Director, Nino Varsimashvili – Writer/Producer
"Lovetown": Paweł Maślona – Director/Writer
"Priceless": Piotr Domalewski – Director/Writer
"Anatomy": Ola Jankowska – Director/Writer
During the first session, which lasted until March 8, participants will analyze their treatments, take part in pitching sessions, make visual presentations of their projects and also prepare for the 2nd and 3rd session under the direction of Wojciech Marczewski, Academy Award Oscar winner Paweł Pawlikowski and Denijal Hasanović. Participants will choose film locations and actors for their scenes. They will also have a chance to present their ideas to internationally recognized film producer Roshanak Behesht Nedjad. Roshanak started Flying Moon in 1999 with Helge Albers, producing features & documentaries, among them award winning films like 32A, THE MARKET and FOOTBALL UNDER COVER. In 2012, she and Jan von Meppen launched LudInc, a company focusing on ARGs and Serious Games for children in primary schools. She is a member of the German as well as the European Film Academy, an EAVE graduate and group leader.
Below you can read biograms of the participants and brief synopses of projects in development.
---
"The 9th step"
Irma Puzauskaite – Director
Egle Vertelyte – Writer
Linas, recovering alcoholic, who has proven his determination to stop drinking, is doing a 9th step program in " Alcoholics Anonymous " (AA) program and gets a chance to correct the biggest mistake in his life and to win back his beloved daughter Eve. Not being able to win his daughter's openness or trust, he tries to reach her through her best friend Maya, 17, to whom his daughter seems overly attached.
Irma Pužauskaitė hails from Vilnius, Lithuania. She studiedn Communication Science before shifting her focus to filmmaking. After working in film finance for Media and the Lithuanian Ministry of Culture, she decided to dive into the creative side of film and was fortunate enough to receive numerous scholarships and sponsorships to attend Loyola Marymount University's prestigious MFA Film Production program. She received the Faculty Award for her thesis short film, The Morning After, and now works as an editor with several films now touring the film festival circuit. She is Alumni of the Incubator Lab at Film Independent. During her studies in LA, she actively studied the work with actors together with Judith Weston and Barry Primus. In 2016 Irma established educational group called Directors Lab for directors and together with professional actors started Vilnius Actors Studio (based on Actors Studio in New York) where actors are trained in method acting and Meisner technique.
Egle Vertelyte was born in Šiauliai, Lithuania. She studied history at Vilnius University, filmmaking at the European Film College, and screenwriting at the National Film and Television School, in England. She is the writer of the shorts ROBOMAX (2013) and ROMANTIC DELUSIONS OF THE BIRD (2014), and director of the documentary UB LAMA (2011). MIRACLE (17) is her debut feature. Egle also works as a writer for several TV shows, collaborates with other directors and teaches art of screenwriting in Lithuanian Academy of Music and Theater.
---
'"Hochwald"
Evi Romen – Directer/Writer
The friends Mario and Luis are victims of an attack. Luis dies, Mario survives uninjured and returns alone to his home, a village in the moun¬tains. The everyday observations of the reverberations of this dramatic experience show Mario battling with his feeling that his life would have been the lesser sacrifice.
Evi Romen – Born 1967 in Bozen, Italy. Studied at Filmakademie Wien, specializing in Camera and Editing. Editor for Features, documentaries, TV movies and series and childrens films. Parallel photographic and literary works.
---
"Good boy"
Matthias von Gunten – Director
Carola Diekmann – Writer
When the systematic tax evasion of US customers comes to light, Benjamin Kamm (51), the client advisor of a large Swiss bank, has to face his long-standing criminal past.
Matthias von Gunten studied at the Hochschule für Film und Fernsehen (HFF) in Munich from 1975 to 1980 and graduated with the movie QUELLE GÜNTHER. He worked as Cutter, director of photography and assistant to the director on different productions fro 1981 to 1984. Since 1986 he releases documentary features for the cinema and television as director. His last feature documentary THULETUALU was invited to more than 60 festivals all over the world. Matthias von Gunten works and lives in Zürich.
Carola Diekmann, born 30.11.1973 in Bielefeld, Germany After graduatating in German Literature, Psychology and Film Studies at the Free University Berlin, Germany, Carola Diekmann graduated in Screenwriting at the Filmakademie Ludwigsburg, Germany. With PHILIP GROENING, she co-authored the drama film THE POLICE OFFICER'S WIFE. The film was first shown in the main competition of the 70th Venice International Film Festival in 2013. The film won the Special Jury Prize. Carola Diekmann is represented by S. Fische Theater- und Medienverlag, Frankfurt am Main, Germany. She lives in Zurich and Berlin.
---
 "The Late Alan Milbrandt"

Olivier Paulus – Director/Producer
Justin Edgar – Screenwriter
73-year-old Alan Milbrandt refuses to grant his wife a divorce whereupon she pronounces him dead and decides to "legally" marry her much younger lover in Morocco.
Oliver Paulus was born in 1969 in Dornach (Switzerland). He first attended the School of Fine Arts in Basel before he studied directing and screenwriting at the renowned Filmakademie Baden- Württemberg in Germany. In 1995 Oliver was honoured with the MAX OPHULS AWARD, in 1997 with the STUDY AWARD and in 2008 with the AWARD FOR FILMMAKING of the Solothurn Government. In 2005 he got invited to direct the prestigious PARISIENNE PEOPLE commercial in the succession of such outstanding directors as Jean-Luc Godard, Robert Altmann, Ethan und Joel Coen, David Lynch, Emir Kusturica, Roman Polanski, Giuseppe Tornatore and Wim Wenders: WIR WERDEN UNS WIEDERSEH'N and WENN DER RICHTIGE KOMMT got invited to more than 100 festivals and honoured with 18 national and international awards. Since 2013 Oliver teaches methods of improvisation as a guest lecturer at the Zurich University of the Arts (Zhdk) and he directs and produces two short documentaries each year on behalf of the Jacobs Foundation.
Justin Edgar made a series of award winning shorts using the architecture and character of his home city Birmingham which led to his first feature film Large (Budget £1.7 million) for Film Four in 2001 aged just 28. His second feature film Special People (Budget £380,000) was backed by Screen West Midlands and premiered at the Edinburgh film festival in 2007 competing for the Michael Powell award. The film went on to win awards at the Moscow, Calgary and Berlin Britspotting Film Festivals.  Justin's third film We are The Freaks (budget £625,000) is an anarchic coming of age comedy set in 1990 starring Michael Smiley, Jamie Blackley, Sean Teale and Rosamund Hanson. It premiered in the Michael Powell Award section at the 2013 Edinburgh International Film Festival and went on to win Best Feature at Las Vegas film festival. It was released by Metrodome in in the UK to great critical acclaim and has now sold to 10 territories internationally. His television drama writing and directing includes work for the BBC, Channel 4 and Ragdoll Television. Justin owns 104 films with Alex Usborne, a company specialising in disability and film. Films include the BAFTA nominated I am Breathing (2013), NFA (2012) and Sex & Drugs & Rock & Roll (2010) starring Andy Serkis as punk icon Ian Dury. He is a voting BAFTA member, visiting directing tutor at the UK National Film & Television School and recently completed the Erich Pommer Institute's Transatlantic Partners Programme (TAPS).
---
"Four Days at the Sea"
Ivana Skrabalo – Director/Writer
Maša is bored, unfulfilled and often lonely 30-year old in a steady relationship with Boris who is preoccupied with his work. Maša's old friend Jagoda invitesthem to spend few summer days at her place on Adriatic island. Maša looks forward to meeting Jagoda's new boyfriend Žare, but the presence of this alcoholic ex-seamen with reckless behavior lets some of her evil spirits free.
Ivana Škrabalo is a film director and production designer from Zagreb. She wrote and directed several short films (He Said He Was Very Tired, You Dreamt You Were Happy). She is the author of a dozen production designs for feature and short films that were awarded at renowned film festivals (The Chicken, Vegetarian Cannibal, Ungiven) and several stage designs for theatre performances. Ivana participated in Midpoint shorts, Berlinale Talents and Sarajevo Talents.
---
"The empty house"
Rati Tsiteladze –  Director
Nino Varsimashvili – Writer/Producer
12-year-old girl finds herself caught in a whirlpool of conflicting emotions when after 7 years of absence, her father – the one man she considers a hero – returns from prison.
Rati Tsiteladze was born in post-Soviet Georgia. At age 21, he won the title of World Champion in martial arts, but in 2014, when filmmaking became the overpowering passion in his life, he left his fighting career and founded ArtWay Film production. Rati directed and produced several short films that were awarded internationally. His work Deda (2016) won 23 International prizes and was screened at around 200 film festivals, including Guanajuato, Locarno. His documentary film Prisoner of Society (2018) was selected at the Oscar qualifying Tampere Film Festival. His feature documentary project Shadows in the Silence was part of IDFA and has been selected among six projects at Doc Corner – 70th Festival de Cannes. His first feature project, The Empty House is short-listed for Sundance Screenwriters Lab and won the Eurimages Award for Best project at TIFF and the Special Mention Prize at Locarno Festival and was selected at Berlinale Co-Production Market. With the project, Rati was selected at Berlinale Talent Project Market and among 6 directors at Cannes Cinéfondation Residence.
ino Varsimashvili was born in Georgia. She is an award-winning screenwriter and producer at ArtWay Film production. She produced several short films that won numerous international awards and have been screened at around 300 film festivals. Nino's feature film project, THE EMPTY HOUSE won the Eurimages Award at TIFF and was selected at the Cannes Cinéfondation Residence. Her feature documentary project SHADOWS IN THE SILENCE won DMZ docs Award and has been selected among six projects at Doc Corner – 70th Festival de Cannes.
---
"Lovetown"
Paweł Maślona – Director/Writer
LOVETOWN, based on Michał Witkowski's bestseller, is a story about the transformation from communism into capitalism told from the perspective of 17-year old Michaska, who enters the '80s Polish gay community.
Paweł Maślona was born in 1983. Graduated from Katowice Film School. He is one of the most talented young flmmakers in Poland whose projects appeared in many natonal and internatonal festials. He was the co-wirter for Deamon, an internationally recognized horror drama directed by Marcin Wrona and most recently highly praised for his feature debut Panic Attack.
---
"Priceless"
Piotr Domalewski – Director/Writer
Adam and Marek hire Ewa – a surrogate mother to carry their baby. Just before the baby is born, it turns out that Marek, the sperm donor, is terminally ill. Marek wants to see his daughter before he dies, but Ewa's husband, fresh out of prison, refuses to give the child away to a gay couple. But the final decision belongs to Ewa.
Piotr Domalewski – film director, screenwriter and actor. Laureate of the Munk Studio's prestigious 30′ programme which supports outstanding young filmmakers. His short films have won awards at various festivals across Europe. He is also a playwright. His play "Pięć metrów kwadratowych" ("Five square meters") has been awarded at the Metafory Rzeczywistostości Contest, a National competition for playwrights. His film "Obcy" ("Stranger") has won Grand Prix at the International Film Festival Cinemaforum in Warsaw. His feature debut "Cicha noc" ("Silent Night") won Grand Prix at the 42nd Polish Film Festival in Gdynia.
---
"Anatomy"
Ola Jankowska – Director/Writer
A woman in her 30s travels back to Poland to learn her estranged father has forgotten the last 20 years of his life and thinks she is still a teenager and they are a family.
Ola Jankowska – Writer & director currently working between Poland and the UK. Ola studied directing at the Polish National Film School in Lodz and the National Film and Television School in the UK. She has made close to 10 fiction and documentary shorts which screened at festivals and showcases around the world. She has taken part in programs such as TFL's Script&Pitch, CPH:LAB, European Short Pitch and Zurich Masterclass. She is currently in pre-production of her first feature-length fiction film 'Anatomia', and in post-production of her first feature-length documentary 'I Was Here', co-directed with Nathalie Biancheri. Ola also teaches screenwriting at the Lodz Film School and has been keenly involved in a number of social initiatives which are a big part of her life.