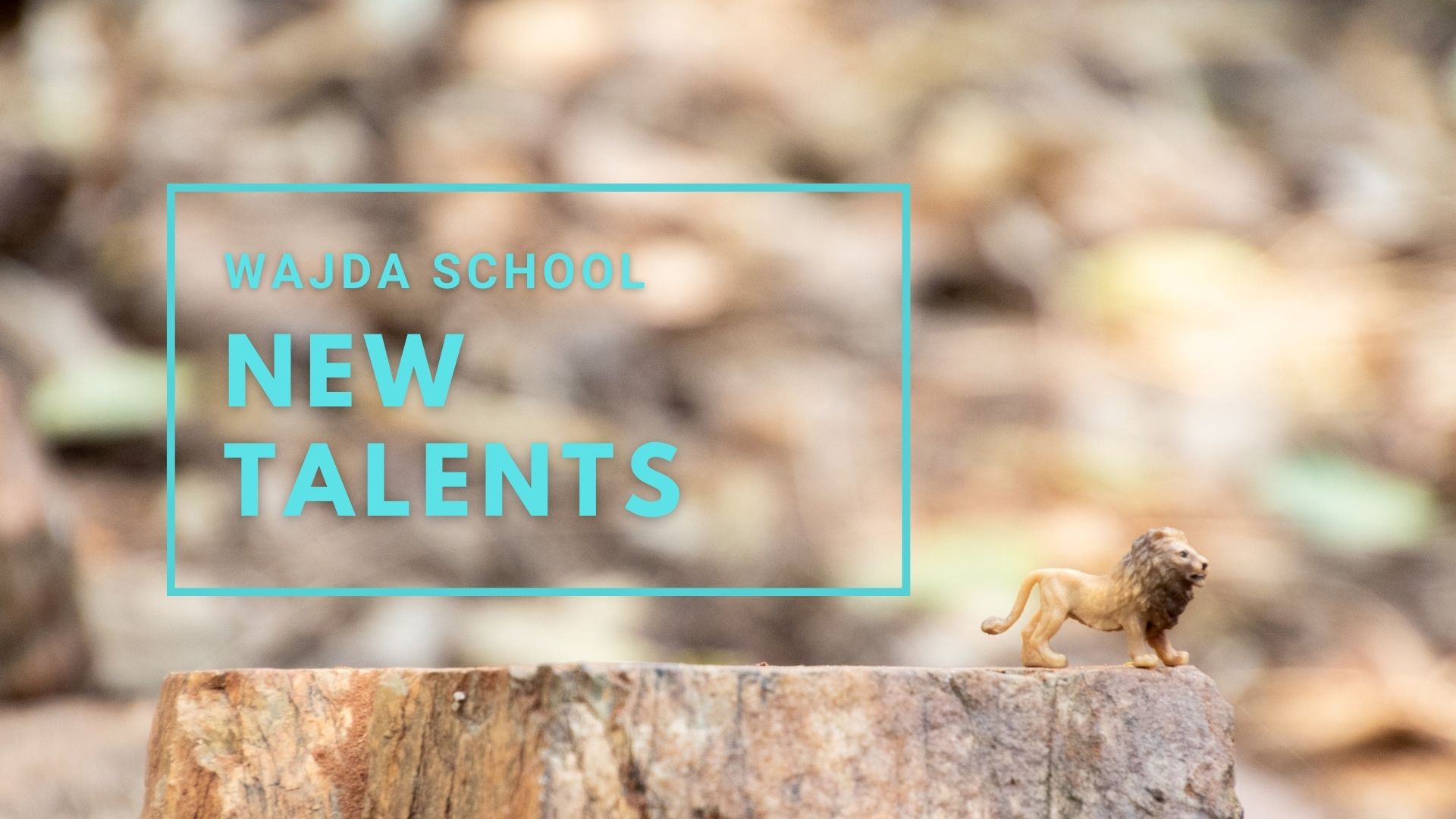 On October 16, Wajda School in cooperation with a Warsaw Film Festival will hold an online event WAJDA SCHOOL | NEW TALENTS. Fourteen projects developed during the feature film, documentary, script and creative development courses will be presented during the event.
Pitching will take place during the 36th Warsaw Film Festival as part of the CentEast Market, which aims to promote cinema from Central and Eastern Europe on the international arena and create meeting places for sales agents, elections, festival selectors and producers from around the world.
Join us!
Date: October 16, 2020 | 13.00 – 15.00
Free registration: free admission, no accreditation required, register at: newtalents@wajdaschool.pl.
The presentation will be led by Joanna Malicka – a lecturer at Wajda School on the CREATIVE DEVELOPMENT course. She is a film producer, production manager, film expert and journalist who, after completing a film studies course at the University of Silesia (1996-2001), went on to study film production at Lodz Film School (2008-2011), then completed a creative producers course at Wajda School (2011) and many international workshops. She has been lecturing at the Krzysztof Kieślowski Film School since 2012 and also teaches at Gdynia Film School. She runs her own company, which produces short films and develops arthouse projects, and collaborates with New Horizons IFF (since 2019 as the Polish Days and New Horizons Studio+ Coordinator). She has written a number of texts on the history of contemporary cinema, and co-presents the radio programme "After the season" on TOK FM Radio.
WAJDA SCHOOL | NEW TALENTS
BALLADS AND ROMANCES | BALLADY I ROMANSE
Julia Bui-Ngoc  – director & Mai Bui – director of photography & Marta Szarzyńska  – producer
A magic mirror, water nymphs, time travel – and a love you would dive to the deepest depths for. During a Slavic festival, Janek catches 17-year-old Karolina's eye. And she catches his. When he disappears into the lake, she jumps in to save him. Karolina emerges into another world, one ruled by folk beliefs. Everyone takes her for          a girl named Karusia, who is soon to marry a man twice her age. In this new reality, Janek has become a ghost. The clock is ticking – once Karolina is wed, they will be stuck there forever. Karolina, transcending her own limits, disrupts the rules of this other world as her fight for Janek, and for love, becomes a fight for herself.
Project developed as part of the DEVELOPMENT LAB course.
A full-length fantasy drama with the first draft of the script by Nina Lewandowska.
Sought: TV broadcaster, sales agent, co-producers.
Contact: marta.szarzynska@gmail.com
Julia Bui-Ngoc born in France, is a director and choreographer. An honours graduate of the Academy of Fine Arts in Warsaw, she debuted with the short film The Nixie, which was screened at various festivals including the Venice Short Film Festival and the Aubagne Film Festival.
Mai Bui is a film director and camerawoman, with an MSc in engineering and architecture. She is a graduate of the Faculty of Architecture at the Warsaw University of Technology and also the Film and Television Academy in Warsaw. Together with her sister Julia, she co-founded the Bui Sisters duo.
Marta Szarzyńska is a graduate in CREATIVE DEVELOPMENT from the Wajda School in Warsaw and an KIPA's Accelerator for Young Entrepreneurs. She has worked for advertising and theatrical productions, and is currently vice-president of the Section for Young Producers at the KIPA.
---
BEING LIKE MIKOLAJ | BYĆ JAK MIKOŁAJ | Aurelia Frydrych-Zdanowska, director

We meet Mikolaj while he is getting his photo taken for his ID card, a document which is a symbol both of adulthood and also of the difficulties he faces. The gender stated on it doesn't reflect his identity. With his friends' support, he decides to start the procedure to undergo a sex change. In the meantime, he experiences his first love, gets his first job and spends long nights discussing the meaning of life. But the most important thing is his relationship with his father, who is against his child's choices.
Project developed as part of the DOC PRO course.
Approximately 20% of principal photography has already been shot.
Sought: a producer, financing and an editor.
Contact: aurelia.frydrych@gmail.com
Aurelia Frydrych-Zdanowska is a photographer and director. Her photography and video art works have been shown at festivals all over the world and she is experienced in creating short documentary and advertising forms.
---
BORDERLAND | POGRANICZE | Julia Popławska, director & screenwriter
A village on the border between Poland and Belarus, in the middle of a hot summer. 14-year-old Sara wants to find a job for her mother, Iwona, to stop her from organising risky smuggling activities. Sara is ready to risk much to save her mother from being arrested. Borderland is a film about self-sacrifice in love.
Project developed as part of the DEVELOPMENT LAB course.
A short feature film at the development stage.
Sought: producer
Contact: poplawskajulia@o2.pl
Julia Popławska is a director, visual artist and graduate of the University of Arts in Poznań. Her first movie received the Grand Prix at the 6th edition of Papaya Young Directors. She has participated in exhibitions organised by Nowy Teatr and the Museum of Modern Art in Warsaw, and her artistic films have also been presented abroad at exhibitions in Paris, Stockholm and Nicosia.
---
LITTLE ENDS OF THE WORLD | MAŁE KOŃCE ŚWIATA | Klaudia Fortuniak, screenwriter & director
Despite the fact that she has only played corpses, Małgorzata still dreams of becoming an actress. Peter, divorced and broke, wants to improve his relationship with his daughter Zosia, and as a last resort he steals a bike for her. When he presents it to her, he realises that she already has one. This event pushes him to decide to commit suicide by jumping from the tallest building in the city. Up on the rooftop, he meets Małgorzata.
Project developed as a part of the DEVELOPMENT LAB and SCRIPT screenwriting course.
A short film (dramedy) at the script development stage. Co-writer on this project is Marek Skrzecz.
Sought: producer and financing.
Contact: klaudia.fortuniak@gmail.com
Klaudia Fortuniak is a director and screenwriter. She is a graduate of the screenwriting and directing course at Wajda School. Since 2017, she has been part of the TV crew for the SLOT Art Festival – SloTV – where she has directed and co-directed various short documentary and feature films.
---
OK BOOMER | Marek Mardosewicz, screenwriter

A story of two 15-year-olds, Julia and Jakub, who, after a prank gone wrong, believe a fake news story about Jakub being a murderer. They vow to make the most of their time on the run before they are caught. The lovers travel across Poland, committing various crimes and streaming everything on social media. It's all a means to an end: 1 million followers and social media influence.
Project developed as part of the SCRIPT screenwriting course.
A feature-length drama with the first draft of the script ready.
Sought: producer.
Contact: mmardosewicz@gmail.com
Marek Mardosewicz is a drama writer, scriptwriter and visual artist. He graduated from the Academy of Arts in Szczecin, Kraków University of Economics and the Jagiellonian University. His works have been shown in Europe and Asia, and in online exhibitions. His full-length debut T3raz my was recently greenlit for production.
---
OVERDUE VACATION | ZALEGŁY URLOP | Mikołaj Zientalski, director &screenwriter
The main character is Krzysiek, a 33-year-old graphic designer in a large advertising agency who is forced to leave his beloved project overnight. He goes to the mountains and tries to survive an unplanned all-inclusive vacation funded by his workplace.
Project developed as part of the DEVELOPMENT LAB course.
A comedy-drama at the stage of working on the script.
Sought: producer and co-producers.
Contact: zientalski@gmail.com
Mikołaj Zientalski graduated from the department of graphics and painting at the Academy of Fine Arts in Łódź with a diploma in multimedia graphics design. After finishing his studies, he started working in film post-production as a VFX supervisor and director at the Human Ark animation studio.
---
PTITSA | Alina Maksimenko, director
A portrait of the author – myself – and my mother during the current lockdown in Ukraine when a tragedy took place: the death of my old friend's only daughter in a car accident.  Locked away in our home, we experience that tragedy together as a common drama, one which changes both us and our relationship. The film consists of a series of conversations between myself and Inna, the main subject, and tells the story of a woman suffering a terrible loss. Our conversations are interrupted by my mother's music lessons, allowing two different worlds to be presented – mine and my mother's – which do not mix but serve as a metaphor for human loneliness.
Project developed as part of the DOC PRO course.
Documentary at the pre-production stage.
Sought: financing.
Contact: alishamaks@gmail.com
Alina Maksimenko is a visual artist who graduated from the M. Boychuk Art College in Kiev in 1993. She has been working in the field of video installations and documentary films since 2012 (www.alinamaksimenko.com).
---
RETURN TO EARTH | POWRÓT DO ZIEMI | Agnieszka Chmura, screenwriter & director
It's 2015 and Gośka, a Polish immigrant in London, is convinced that something will go wrong with her pregnancy. She fears bringing a child into a world dominated by terrorist attacks and growing nationalism, but it is her own relationship that needs attention. Unable to communicate with her partner Harry, Gośka spends all her spare time on the sewing machine. A commission to make a coffin dress for Vanessa, a terminally ill woman from remote Cornwall, results in Gośka being confronted with her biggest fears, but eventually leads her towards the strength and connection that she craves. But will Gośka be able to save her relationship with Harry?
Project developed as part of the SCRIPT screenwriting course.
A feature-length film at the treatment stage.
Sought: producers interested in Polish-British collaboration.
Contact: agnchm@gmail.com

Agnieszka Chmura is a graduate in Documentary Filmmaking from Aix-Marseille Université in France and European Studies at the Jagiellonian University. Her debut short Border Crossing (15′, 2019), which was also developed at Wajda School, was screened at over 30 festivals around the world, including the Kraków Film Festival, Camerimage, Trieste Film Festival, Brest European Short Film Festival and Leeds International Film Festival. She lives in London in the UK.
---
SEASONS | SEZONY | Maria Leźnicka, producer & Michał Grzybowski, director
A bittersweet comedy about love and break-ups, this is the story of Marcin, an egocentric actor who has to face the unexpected break-up of his long-term relationship. A 'Marriage Story' with a happy ending, set in the world of provincial theatre that is full of absurd humour.
Project developed as part of the CREATIVE DEVELOPMENT course.
A feature-length film at the development stage (co-financed by the PFI).
Production: HAJA FILMS
Sought: co-producers, partners, investors and broadcasters.
Contact: mleznicka@gmail.com
Maria Leźnicka – a graduate of the Lodz Film School and the 3rd edition of the KIPA's Accelerator for Young Entrepreneurs of the AV Sector. Participant of the IMPACT program of the Wladyslaw Slesicki Film Foundation and Creative Development of the Wajda School. She gained experience in short films. Production manager of Michał Grzybowski's long-feature debut "Beloved Neighbours". Owner of HAJA FILMS. Junior producer in SALTO FILMS.
Michał Grzybowski is a director, actor and screenwriter, and a graduate of Łódź Film School and Wajda School. He made the independent comedy Non Sono Pronto, about actors debuting in the film industry, for which he received an honourable mention at the Gdynia Film Festival. In 2014, he directed Hitler at the Opera, produced by Munk Studio, in which he addressed the subject of national prejudice. His feature-length debut Beloved Neighbours, a moving dramedy about two couples that split up over a misunderstanding, will premiere at the Polish Film Festival in 2020. He appears in and directs theatre productions on a daily basis.
---
THANATOS | TANATOS | Rafał Łysak, director & screenwriter
15-year-old Eryk lives in the Polish countryside, where no-one accepts him as gay, except his alcoholic father. When his dad starts a fire in the house whilst drunk, Eric's mother takes the boy to live in Berlin. However, the woman also has a problem with her son's orientation so he runs away to be with his father, regarding him as his only friend. By then, however, the man has lost control of his addiction. Eryk tries to help him recover, but faces ostracism in the local area where he lives. During this time, he falls in love with Krzysiek, who works in a local store, but he misinterprets the other boy's signals and when he tries to cross the boundaries of friendship, Krzysiek breaks off contact with him. All this, together with the unsuccessful fight to help his dad become sober, will be a hard lesson for Eric to learn to let go at some point. He will fully understand this when he faces his dad on the verge of committing suicide.
Project developed as part of the SCRIPT screenwriting course.
A full-length drama at the treatment development stage.
Sought: producers, co-producers, sales agent
Contact: rafallysak@wp.pl
Rafał Łysak is a graduate of the documentary DOC PRO and SCRIPT course at Wajda School and the scriptwriting course at the Institute of Literary Research of the Polish Academy of Sciences and the Acting department at Łódź Film School. He made his debut with the documentary Unconditional Love, which received awards at many Polish and foreign festivals, including the Golden Hobby-Horse at the Kraków Film Festival in 2018. He is making further documentary projects, and Thanatos is his feature debut.
---
THE JOY OF LIVING | RADOŚĆ ŻYCIA | Szymon Waćkowski, director & screenwriter
A young married couple with two pre-teen kids take a weekend trip to a large amusement park. In their hotel room, the woman discovers her husband attempting to commit suicide. He convinces her to conceal the truth from the kids so they can carry on with their holiday. Although she agrees, she spends the whole day secretly trying to investigate why her husband took such a dramatic step.
Project developed as part of the DEVELOPMENT LAB course.
A short film at the stage of working on the final version of the script.
Sought: producer
Contact: wackowskiszymon@gmail.com
Szymon Waćkowski is a graduate in Screenwriting at Łódź Film School and in Directing at the National Academy of Dramatic Art in Warsaw. He has directed several theatre plays and a TV play entitled Brave Lads for the Teatroteka cycle by the Documentary and Feature Film Studios. He is also involved in film and opera workshops for young people.
---
VISIT | ODWIEDZINY | Anna Pichura & Felix Mamczur, directors
Following the outbreak of the Covid-19 pandemic, street working became the only means of support open to volunteers from the NGO Zupa na Plantach [Soup in Planty Park] to help the homeless. Once a week, they would visit those places where the homeless were living – abandoned buildings, allotments and ad-hoc shelters – to distribute food, toiletries and clothes. When the restrictions eased, our camera was still on hand to record the fate of our subjects. What kind of relationship developed as a result? Is mutual trust, friendship, loyalty, even love, possible between those with a home and those without? What happens when people from two such different and alien worlds meet?
Project developed as part of the DOC PRO course.
Production: Bluefish Film Collective (Anna Pichura & Felix Mamczur).
Development of the project has been financed by a 6-month creative scholarship from the Ministry of Culture and National Heritage. The film is at the documentation stage.
Sought: producer and financing.
Contact: bluefish.film.collective@gmail.com
Felix (Mirosław) Mamczur is a graduate of the DOC PRO course at Wajda School, and he also studied Film and TV Picture Production at Łódź Film School. The winner of numerous awards, including at the Gdynia Film Festival, he has been involved in the advertising sector for many years.
Anna Pichura is a graduate of the Wajda School DOC PRO course and the Academy of Fine Arts in Kraków. She received scholarships from the Polish Ministry of Culture and National Heritage and also the City of Kraków for documentary projects addressing the issue of social exclusion.
---
WARS WE WERE NOT PART OF | WOJNY, NA KTÓRYCH NAS NIE BYŁO
Norbert Rudaś, producer, director & Marcin Ogdowski, screenwriter
A film about the long-lasting participation of the Polish Armed Forces in the Iraq and Afghanistan wars – conflicts that Polish soldiers never formally participated in. A multi-threaded story, told by filmmakers who became closely integrated with the closed military community, illustrated with private footage, never released before, taken by veterans involved in the conflicts.
Project developed as part of the CREATIVE DEVELOPMENT course.
Genre: feature-length film and documentary series.
Advanced pre-production, ready to start principal photography.
Sought: financial partner, TV broadcaster, VOD platform
Contact: norbert.rudas@gmail.com
Norbert Rudaś is a director, producer, Kraków Film School graduate and creator of several recruitment campaigns for the Polish Armed Forces, including spots, promotional films and documentaries which have won awards at home and abroad (www.norbertrudas.pl).
Marcin Ogdowski is a screenwriter and war correspondent who spent nearly two years embedded with Polish troops on military missions. He is the author of the first war zone blog in Poland: zAfganistanu.pl.
---
YURKI | Vlada Senkova, director & screenwriter
Belarus, October 2020. The country is immersed in revolutionary protests against the falsified presidential election, with people being detained, arrested, beaten, tortured and murdered. Yura is one of the protesters who was excluded from university and conscripted into the army against his will, while Gosha is the son of a high-ranking government official who has sent his son to the army to make him grow up. Once in the military unit, Yura becomes a victim of persecution, with Gosha one of his tormentors. The sudden 'suicide' of another soldier leads to the two adversaries facing a big decision: desert, escape to Poland and ask for political asylum, or go back to the military lawlessness.
Project developed as part of the DEVELOPMENT LAB course.
A full-length drama with the first draft of the script.
Sought: co-producers, TV broadcaster, sales agent, distributors and festival programmers.
Contact: DOKA LCC vladljena@gmail.com
Vlada Senkova was born in 1986 in Vitebsk in Belarus. She graduated from the Belarusian State University (2010) with a specialty in computer linguistics and then from the Minsk Film School (2013) with a specialty in film directing and screenwriting. Her first feature film The Count in Oranges (Belarus, 2015) won the Cottbus IFF Discovery Award in 2015. Her second feature II (Belarus, 2019) received a Special Mention in the Jury Award at the Warsaw International Film Festival in 2019.